Art / Poetry
Poetry
Poetry"Dukh Aur Tarah Kay Hein ,Azab Aur Tarah Kay
Iss Rah me Aaey Hein Sarab Aur Tarah Kay
Aankhon Mey Liye Phirtay Hein Khwab Aur Tara kay.
Hum Log ke Hein Khana -Kharab Aur Tarah Kay
Sehra Se Aaen ge na Samandar Se Aaen ge
Mousam Dukhon kay Apne Hi Andar Se Aaen Ge
Aankhon ka Ahd Aur Tha ,DiL ki Gawahi Aur Hae
Ab kay Gunah Aur Tha ,Ab kay Saza hi Aur Hae
PehLey Bhi yoon To Bastiyan UJdheen ,UJadh kay Bas Gain
Sahre Muraad ! dekhna ,Ab kay Tabahi Aur Hae
sahiL Bhi AJnabi They kay Darya Mra na Tha
Mein Jis ME Bas Rahi Thi Jazeerah Mra Na Tha.
Muddat Se Jis ko Odh Kay Phirti Rahi Yahan
Dekha Jo Aainah to Wo Chehra Mra Na Tha"
-Siddiqua Shabnam
"In sagar ki leheron se to mere khwab hi achche,
Humay pagal hi rehne do, hum pagal hi achche."
"Dosti wahan na kariyo jise apne pe garur hoye,
Wahan kariyo jahan dosti nibhane ka dastur hoye."
"Zindagi ko bahut pyar humne diya, maut se bhi mohabbat nibhayenge hum;
Rote rote zamaane mein aaye magar hanste hanste zamaane se jayenge hum."
*****************************************************************
They will sing your song some night,
raise their hands in praise again,
this rabble that did you decry
will once again call your name !
These walls will crumble, regimes fall,
nor tyranny ever will remain;
on some distant shore, some castle top
your pennant there will fly again !
The lights may dim, the music stop,
no revellers then, may remain,
just a wounded heart,a harpsichord
humming softly a sad refrain ;
Nothing ever remains the same,
even the seasons,they do change,
this heart,till then will beat alone
upon some lonely,distant grange !
Hush,crave not fortune or the fame,
nor should you seek acclaim;
all that in this world you lose,
in that world,you'll have a claim !
Yearn not, for a love that forgets its own,
nor for it shed your tears inane ;
A wounded heart will never cry,
silently, it bears the pain !!
– Salman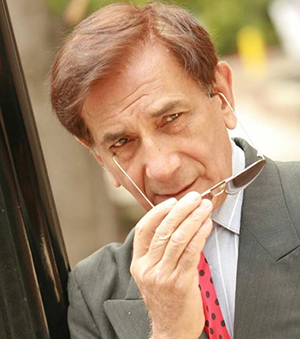 Knowledge is the foundation of faith;
Faith is the army …
Knowledge is the weapon;
The VICTORY is INNER HAPPINESS.
******************************************
Pyar kiya hai, Ikraar nahi
Dil se chaha hai tumhe,
bewafa nazron se nahi ;
Jab dil mein samaye ho
tow zubaan se kya kehna ,
Mein chup hun,
tum bhi chup rehna;
Guzar jayegi yeh zindagi
shab-e-intezaar mein,
In aankhon ne seekh liya hai
HAR DARD KO SEH LENA !
– Nandita